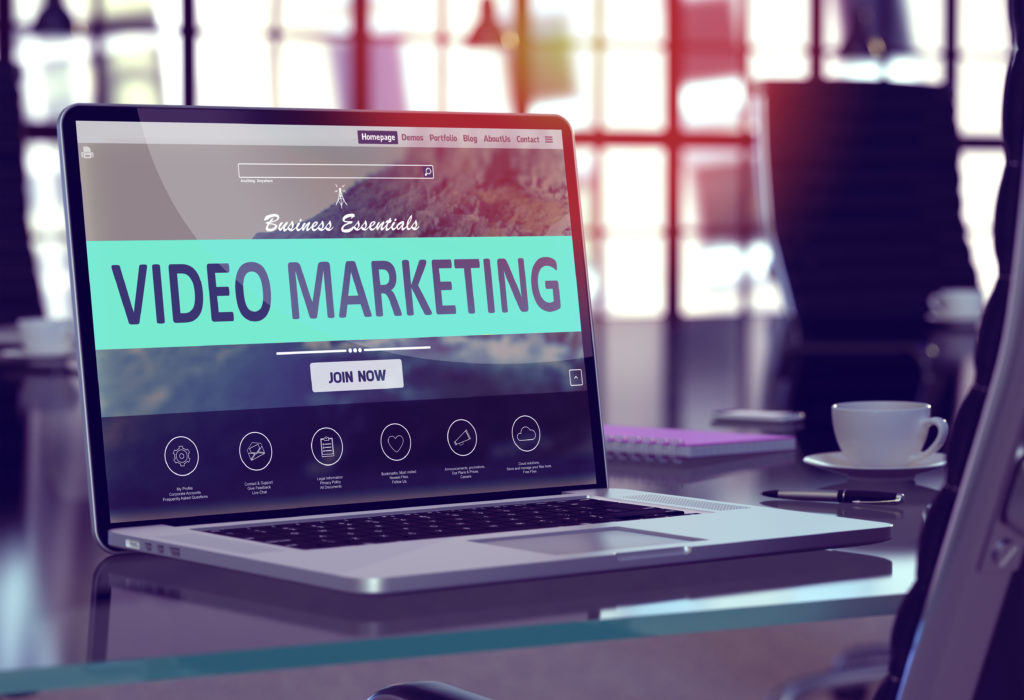 We've been talking a lot about different approaches to video marketing, what kind of videos you should make, tips on making videos, and things like that. But we wanted to take a step back and address a more basic question – why video marketing?
Well, because it works. But that's an easy answer.
Video grabs attention.
Paying attention to motion is something that people do naturally. Videos are 12 times more likely to be watched than text is to be read. And 65% of viewers watch more than 3/4 of a video. They're also able to process the information more quickly if it's a visual. Just think about how long it takes to describe a scene in a book compared to how quickly they're established in movies.
Video is getting easier and easier to make. 
This means it's no longer overly expensive to hire a professional, but it also means video is more accessible to people who want to take the DIY approach. We have a blog post about when to hire a professional vs DIY video which can help you figure out which is right for you. It also includes some tips if you do decide to take the DIY approach.
Video is the most successful medium to trigger emotions.
When you watch a video, your brain's mirror neurons fire as if you were in the same situation as the person you're watching. This causes you to have a similar emotional response and leads to emotional connections. That's how you can build trust in your product or brand. It also helps convert viewers into customers, and we're all about conversions in video marketing.
Recent research shows that 71% of marketers say video conversion rates outperform other marketing content. Need more convincing?
Visual Content is the key to great engagement.
Audiences are almost 10 times more likely to engage with, share, and comment on video content than other social media posts. Having a highly engaged audience means retention, growth, and conversion. Social media networks know this and are even moving toward favoring video marketers. Just think about your Facebook newsfeed and how you'll scroll past status updates and links, but can't avoid noticing a video (especially with Facebook's auto-play).
Video improves click-through rates.
Especially in emails. Just mentioning the word "video" in the subject line can increase open rates by 13%. We send out a video marketing tips newsletter every month (you can subscribe here to stay in the loop) and our featured video always gets the most clicks. The use of video in emails has been shown to double click-through rates. If you've worked really hard on that important email copy and you want to make sure it drives results, make sure to take advantage of video!
Now, lets look at some statistics:
How other people people are using video marketing:
The top 100 leading national advertisers run daily video campaigns on YouTube
The top 500 brand channels on YouTube average 884,000 views each month
YouTube reaches the 18-34 adult age bracket better than cable network TV
The spending on digital marketing increases every year
Top brand on YouTube average 98,000 views per video and 35,000 subscribers per channel
The top 1,000 channels on Youtube generated $23,000 in ad revenue and 350 social interactions are generated per minute of video airtime
Nearly 40% of all video is watched on a mobile device
Back to the question "why video marketing?":
Videos on Facebook business pages increases end user engagement by 33%
Embedded video in websites can increase traffic by up to 55%
75 million people in the US watch online videos every day
There are so many reasons video belongs in the best marketing plans. It's one of the most powerful digital marketing tools available. Video is able to transmit large amounts of historical, emotional, and educational information in only a few seconds. It's better for memory recall, persuasion, and search engines love it.
If you're looking for more tips, check out our other blog posts here!
If you want to grow your business with video, call us at 321-802-3169 to set up a FREE video consultation.