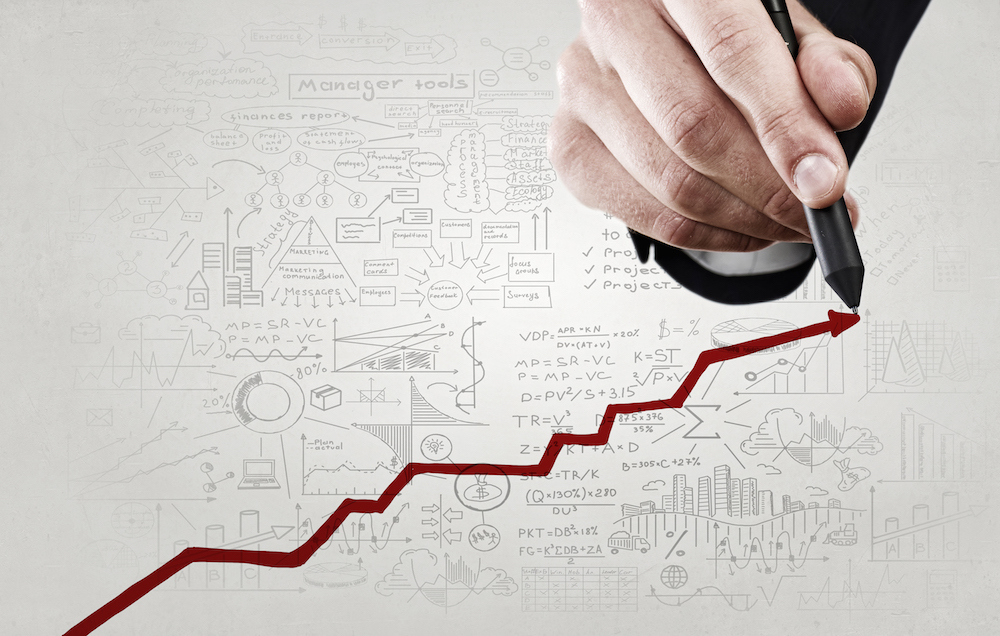 Growth marketing is changing the way marketers approach the task of driving awareness, demand, and sales. It has helped re-define the goal of marketing to be less about simply acquiring more customers and more about attracting and retaining engaged customers, which means marketers now have to focus on more than just the top of the marketing funnel.
What is the marketing funnel? It's a visual representation of the process of turning leads into customers. The stages go like this: awareness, interest, consideration, intent, evaluation, and purchase. While traditional marketing focuses on the top tier of the marketing funnel, growth marketing focuses on the whole thing. It's important to focus on the entire marketing funnel because growth without retention, isn't really growth.
"Growth marketing is removing the boundaries of marketing to enable every aspect of the customer experience to focus on attracting more engaged customers." -Mike Volpe
Growth marketing involves thinking outside of the box and steering away from traditional marketing tactics. This means there's always going to some trial and error. There's no more push to create a solid, strategic marketing plan. Instead, marketers leverage multiple tactics and run A/B tests to establish what works. Once they find what messages pull in the most customers and what methods fit their goals, they lead with them.
"For meaningful growth, startups must completely change the rules of traditional channels or innovate outside of those growth channels. They are too desperate and disadvantaged to adapt to the old rules of marketing. They have to dig deep creatively, and relentlessly test new ideas. If they don't figure it out quickly, they will go out of business." – Sean Ellis
Because marketers are now focusing on the entire customer lifecycle, and this shift has also made marketing more technology-centric, video is a great tool because it can be leveraged at any stage of the growth marketing process.
Here's how to use video at different stages throughout the growth marketing process in order to attract and retain engaged customers:
Branding
While this is what catches a future-customer's attention at the top of the marketing funnel, good branding still matters throughout the customer lifecycle. Branding is key to making your company relatable to your customers. It personifies your company, and gives people another reason to choose your company over your competitors.
To back up your branding with video, make it fun and interesting. Give your viewers a way to describe what makes your company so great. You can also spotlight solutions that you provide for your customers and center your content around what your product or service helps them achieve.
Onboarding
At this point, customers want reassurance that they made the right choice with your company or they may need help in figuring out how to utilize your product/service. That's where testimonials and technical how-to videos come in.
Video testimonies feature existing customers talking about how your company was able to help them, and they help show new and future customers how they can get the most out of working with you. However, these videos do need to be authentic and the customers featured in them have to be relatable. We have a video that breaks down how businesses can benefit from video testimonies.
How-to videos or walkthroughs can also be helpful at this time if your new customers need technical help. Walk-throughs and detailed guides encourage customers to test things out themselves and ensure them that they'll be able to start accomplishing their goals with your company.
Engagement
Like we said earlier, growth without retention isn't actually growth; and when it comes down to things, engagement encourages retention. Like the branding stage, personalization is key here. At this point in the process, you want to create personalized videos that will create an emotional connection with viewers to increase sharing. By leveraging fun and memorable videos, you provide social currency that engages your users and makes them want  to share it with their friends, which grows your brand affinity.
Growth
Once you have solid branding and engaged customers who plan on sticking around, it's time to thank them and ask them for their help. Personalized "thank you" videos that pinpoint customer achievements and how they've helped your company grow really show how grateful you are for your customers. It also makes your customers feel good about the fact that they chose your company. Then you can incorporate a call-to-action to prompt viewers to refer other people to your company.
This process needs to be simple, and providing pre-formulated messages with custom referral links that provide incentives really encourages  your customers to follow your CTA.
Creating authentic videos that resonate with your viewers and encourage engagement are the key to real growth. Growth marketing is all about understanding your product value and moving potential customers to that "aha!" moment as quickly and efficiently as possible.
If you're looking for more tips, check out our other blog posts here!
If you want to grow your business with video, call us at 321-802-3169 to set up a FREE video consultation.