Over the last month we've been busy working on some great projects.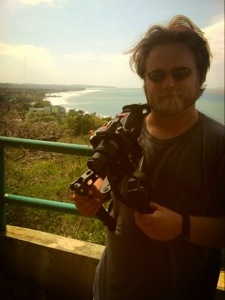 To start I worked for a full week in Puerto Rico working as camera op on a travel show that focuses on local cuisine and surfing. The show was a pilot that's set to air on PBS. It was shot on GH2s on sticks and handheld with shoulder rigs. This was the first time that I've been to Puerto Rico and it's a beautiful place. Being that half the show highlighted surfing we went to film at many of the great beaches there. It's great to film in new locations, especially on a show like this where you can take in the landscapes and cultures while you work.
After I got back, I worked with Josh from Josh Malyn Productions on a two day shoot filming a Wounded Warrior who amazingly survived being shot in the head while serving overseas. We filmed interviews with him, his family, and people he works with. Most of the filming was done on Patrick Air Force Base. Video production included shooting on a GH2 and an HPX-170 and lighting with Arris, Kinos, and LEDs. I've grown up on the Space Coast in the Brevard area, but never had the opportunity to step foot on the base before. It was great experience to shoot on the base and work alongside a great crew.
And finally last week, Jessica and I were back on the road to Tallahassee to film four more episodes of the cooking show. We filmed primarily at Keiser University in one of their culinary kitchens. But we also got the chance to film at the Capital Building on the Florida Senate Floor. Very few can say that they've had the chance to be on the Florida Senate floor, let alone stand where the Senate President stands.
And that's why I love doing what I do. When I'm not shooting video and making commercials in Melbourne, I get a chance to travel around and film in great locations and meet interesting people.