The world of video production is constantly changing, and to offer the best product as a videographer, you have to grow with it.  That's why in recent months we have upped our arsenal at 142 Productions with a whole new set of equipment.
In the past, most video cameras had "fixed" lenses, meaning that the lens was permanently attached to the camera. This gave limitations to focal lengths and aperture possibilities. But recently, in the last few years, DSLRs have been making a big impact on the video industry. Not only do they have the ability to shoot HD video, but they also offer the ability to change lenses. This makes the camera more versatile if a shallow depth of field look is desired, then a "fast" lens that can let in more light can be used to achieve the effect letting your viewers focus on exactly what you want them to. Or a long telephoto lens can be used if you want to capture action thats happening at a distance, great for sporting events like surfing.
We acquired the Canon 60D which shoots 1080 HD video and also comes with a healthy collection of lenses to obtain pretty much any look that you could want.
A beautiful image is only half the battle to a successful video production.
Audio is just as an important factor.  Today you'll see a lot of videographers out there bringing DSLRs to shoots but still relying on the sub-par on-board audio that's built into the cameras. This is an amateurish move in the industry.  Quality audio capture is required to make a shoot a success. When working with a DSLR workflow, a separate audio recorder must be used.
For our audio recorder, we chose the Tascam DR100 mkII.  This recorder offers excellent quality with professional inputs in a sturdy design that's perfect for location shoots.
In addition to the new camera and audio gear, we also have a new teleprompter. Teleprompters are used for on-camera talent to read a script or "copy" while still appearing to be looking straight at the camera.  A beam spitting sheet of glass is put directly in front of the lens of the camera. The text is then reflected on to the glass, and being that it is so close to the lens itself, the camera can't even see the prompter text.  Teleprompters are great tools when an actor has to read a large amount of text without having to memorize every last word.
And last but not least, we now have closed captioning capabilities! Closed captioning is required when posting long format or political TV commercial advertisements to broadcast or cable television. Our new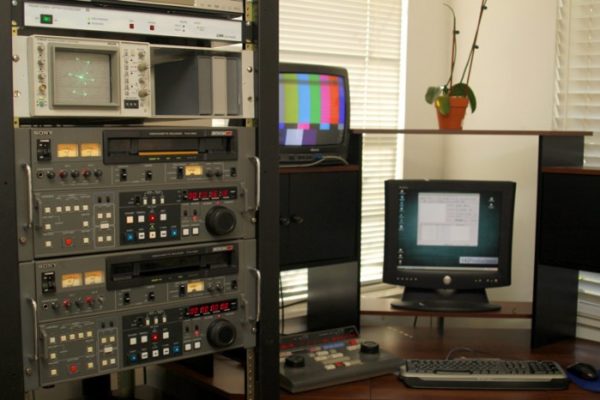 equipment gives us the capacity to deliver SD programming that is CC encoded and compliant with current regulations.
We here at 142 Productions are proud of our new equipment and love making the most out of every video production! Whether you're in Melbourne, Cocoa, Vero Beach, Titusville, or anywhere in Florida and you want to grow your company's business with video, call us today for a free quote!