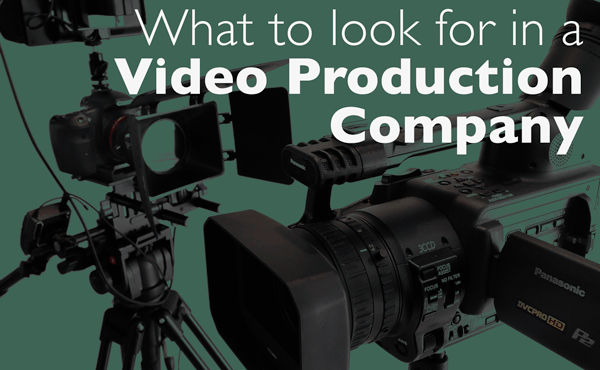 Video is a great tool to advertise your company and bring it to life for your customers.  When it comes to hiring a video production company to create videos promoting your product or business, there are a few things to keep in mind.  
See samples of their work:
The proof is in the pudding as they say, and it's no different for video production companies. When you meet with a videographer or agency, ask to see samples of their past work.      
When watching their videos, pay attention to these key factors:
Does the audio sound good? – Bad audio is distracting and can cheapen the video that puts a negative light of the subject itself.  If a viewer hears audio that is muffled, has a hiss, or has a "big room" echo, it comes off as amateur. 
Is it visually engaging? – If while you watch their samples and start to get bored, the videos are not doing their job. Make sure that any on-screen text or graphics work well with the video.
Do the videos achieve what they were made for? – Every video created has a purpose and should leave the viewer with a feeling or want to do something.  After watching a video that is selling a product, the viewer should want to buy it. After watching a video about a resort, the viewer should want to go there. And after watching a video about a restaurant, the viewer should be hungry. 
Ask if they sub out their work:
Some people don't know this, but a lot of agencies, marketing firms, and video production companies don't have a dedicated, in-house staff to create videos.  They depend on subcontractors and freelancers to actually produce the videos. So when you hire one of these companies, you've basically just hired a middle man, which means more people reaching into your pocket.  A problem that can arise from this situation is the person that you hired isn't directly working on your project, but is putting it in the hands of someone you'll probably never meet.  Remember playing "telephone" as a kid, where you would tell a person next to you something, and they would tell the person next to them and so on and the original message would turn into something else entirely? That's exactly what can happen in this scenario and your message can be totally lost, costing you more time and money to revise the video into what you wanted in the first place. 
When a video production company has in-house people to work on videos, you have a direct line to the artist in charge of creating your video.  Clear communication keeps cost down and turnaround times faster to make sure your video gets made under budget all while cutting out the middle man.
Get a proposal:
If you find a production company that looks like a good fit, make sure that you have a written proposal from them that both parties have signed off on before work begins.  And I'm not talking about a price scribbled on a napkin or a range where they say, "It could land anywhere between $500 and $5,000.".  A detailed proposal should be presented to you that lays out the scope of work, delivery time, and a projected cost with no more than a 10% margin. Make sure the verbiage in the proposal states if the project is on it's way to being over budget, you will be notified before so that you are not hit with any surprises when the invoice comes.
Shop around:
And finally don't be afraid to shop around. If you don't feel like a company can deliver what you are looking for, move on to the next one.  Creating a video is is an important piece of your business. It talks directly to your audience and sometimes it's the first time that they've heard of you, making this video their first impression.  Whether the video is for your website or for a television commercial, good communication and attention to detail are paramount to make sure that your video is effective and hits it's target.