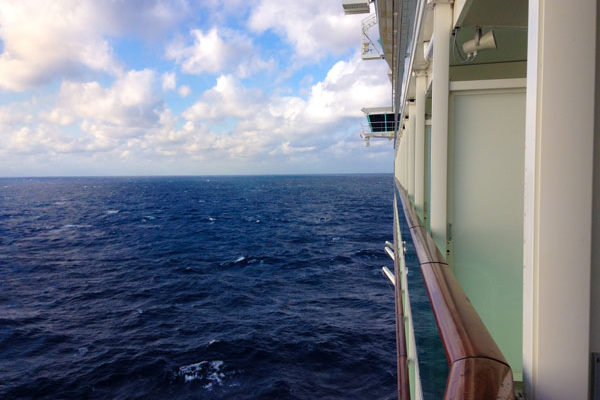 Video production on the high seas!  We needed our passports this week because the cooking show that we work on was taking the show on Royal Caribbean's Liberty of the Seas.  The show brings on Florida politicians as guests, and since the cruise industry is a big part of Florida's economy it made perfect sense.  The 1,100 foot ship left from Port Everglades headed to Cozumel, Mexico.  We filmed three episodes in one of the ships fine-dining restaurants, Chops Grill.
The show is shot in HD with three Panasonic HVX200s, two Canon 60D DSLRs, and a few GoPros to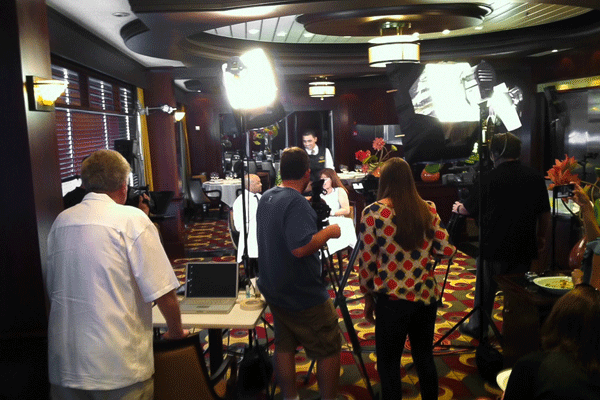 pick up different angles.  B-roll and bumps, which are the intros and outros to commercial breaks, were filmed primarily on shoulder-mounded DSLRs with Zoom recorders getting audio. GoPros were also used to capture time lapses and action shots of the ship's many activities. Being that we were traveling abroad with all of our video equipment, it was essential that all the proper customs forms and details about our workflow on the ship were finalized way before we left the port.
Filming while on the move has it's rewards.  One big perk, in my opinion, is the opportunity to travel. I have never actually been on a cruise before and I have a tendency to get motion sickness very easily so I was a little skeptical (saying that I'm prone to sea sickness is a huge understatement).  But the Liberty of the Seas is a big ship and she was very smooth and I never had any problems. We worked 3 of the 4 days and had one day to ourselves while we were in Cozumel. We also had a little time to go sight seeing and meet some of the locals. We worked with an awesome crew and got the opportunity to work with some new faces as well.
It also has it's challenges as well. The restaurant that we filmed at was operational in the evenings, so everyday after shooting a show, we had to quickly strike our set and store our gear. Being that every square foot of a cruise ship is used, the only place that we could store our dollies full of gear was in our personal rooms. That made for a tight fit, but fitting all of that equipment in a certain way reminded me a lot of playing Tetris. Another issue was power, most of the power outlets on cruise ships run 220 volts, which would blow the bulbs in our lights. But thankfully, our ship's liaison was more than helpful in finding us converters and adapters, thus letting the show go on.
Shooting video in different scenarios keeps us on our toes. Problem solving is a huge part of video
production, if not the biggest, and having an open mind and a positive attitude that's backed with experience will make sure that the best final product is achieved. Filming on the go is something that we love to do, we get to see new places, meet new people, and have an experience that we'll get to share with the world using the videos that we produce. So that just leaves the question… where will we go next?
142 Productions is a video and web production company specializing in broadcast TV, corporate web videos, and website development & marketing.  Located in Melbourne, Florida on Brevard's Space Coast. If you have any questions about video production or your project, feel free to give us a call at 321-802-3168.